"We Owner Finance Land In Virginia. Affordable Monthly Payments & Down Payments! You Can Own Land TODAY"
You are about to gain access to Secret real estate LAND DEALS that most people will NEVER know about. We have unlocked a Vault of these deals and we want to share them with YOU! We have the BEST deals in Virginia and we want to sell them to you Stress FREE, Without the use of BANKS, Regardless of your Credit!
We OWNER FINANCE LAND and we can help you own the American Dream!! We offer AFFORDABLE Monthly Payments and Down Payments on each property, and don't require a Credit Check! We are YOUR answer to Land OWNERSHIP!

Get Access Now!
Complete the simple form below to be on our "Exclusive VIP Buyers List" to be the FIRST to claim your details about land deals for sale with Owner Financing. You'll also immediately claim your FREE copy of the brand new Digital Book "8 Secrets You Need to Know When Buying Land."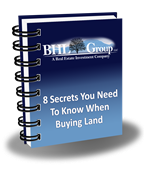 Secure & Confidential.
Your email address will never be rented, traded or sold.